Restylane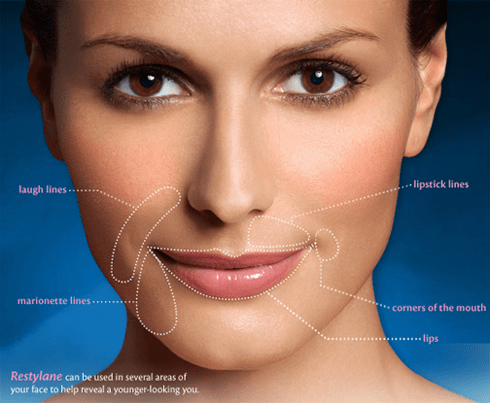 Restylane is a safe and FDA approved noninvasive facial treatment. It is designed to hide or slow the effects of aging. Restylane dermal fillers are made from clear hyaluronic acid-based gel. These can be used for filling wrinkles and lines in the face. They can also be used for adding lubrication and moisture to the skin to make it feel more comfortable and younger.
plastic surgeon Dr. David Kim provides safe and proven Restylane facial filler injectable treatments to patients in Beverly Hills, Los Angeles, CA, and surrounding locations.
Restylane Composition
Restylane is a biodegradable, non-animal based clear gel that is made of hyaluronic acid. This component occurs in the body naturally. Restylane injectables are originally developed by Swedish manufacturers and are now marketed in the US by Medicis. This is a leading pharmaceutical company offering a broad range of skin treatment options.
Restylane is manufactured from laboratory cultivated tissue. It is an excellent alternative to hylaform and collagen based dermal fillers that are derived from animal products.
Who is a Candidate for Restylane Treatment?
Restylane doesn't involve any removal of tissue or incisions. It can be completed by administering few injections. This is why the risk of complications is low. Anybody looking to reduce the severity of their wrinkles and facial lines are ideal candidates for Restylane injections.
Restylane can be safely used by people allergic to avian-based hyaluronic acid treatments. However, Restylane is derived from bacterial proteins. Individuals with a history of allergy to this should not use the product.
Restylane Treatment Areas
Any facial area can be treated with Restylane dermal fillers. It can be used for lessening deep folds, creases, and light wrinkles. Fine mouth lines and laugh lines are usually improved through this product. Larger particle versions are used for enhancing facial contours. For instance, recessive chins, under-projected cheekbones, and sagging under the eyes can be treated with this advanced hyaluronic acid formula.
Restylane is also used as a lip filler among other popular applications. The product can enhance the shape and volume for months following treatment. In short, Restylane injections can improve any area of the face that lacks smoothness, shape, and volume.
Benefits of Restylane Cosmetic Filler
A wide range of benefits is possible with Restylane facial filler products, including a younger looking appearance. The product can be used for filling minor to moderate wrinkles and lines. It is especially effective around the nose, eyes, and mouth. Restylane can lend definition and volume to lips when used for enhancing lips. It produces a more pronounced and sensual pout.
Hyaluronic acid used in Restylane is not derived from animal tissue, making it safe for use in people with animal allergies. Restylane results are also more longer lasting and natural looking. Restylane injectable is affordably priced. However, there are always financing options available for patients at competitive and affordable rates if they are looking for alternative ways to pay for their cosmetic procedure.
Cosmetic surgeon Dr. David Kim receives patients from Beverly Hills, Los Angeles, CA, and nearby areas for Restylane facial filler injection procedure.
Schedule a Consultation with Beverly Hills California Plastic Surgeon Dr. Kim
For more information on the surgical and non-surgical procedures and treatments by Cosmetic Plastic Surgeons Dr. David Kim and Dr. Eugene Kim. Click here to contact us today.
Also visit beverlyhillsplasticsurgery.com
Serving Beverly Hills, Los Angeles, West Hollywood, Orange County, Southern California and surrounding areas.