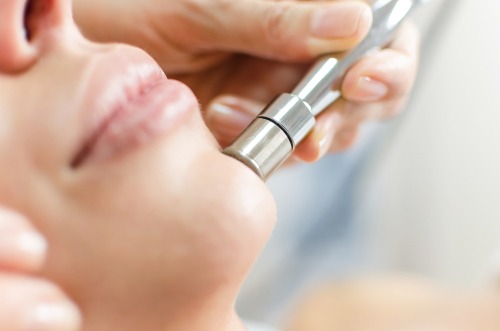 Skin resurfacing is a reliable way to achieve youthful and smoother looking skin whether you are suffering from wrinkles, acne, pigmentation, or scarring. Resurfacing is designed to remove the upper skin layers to stimulate the natural healing process. Growth of new skin layers is triggered which is more vibrant and youthful.
Dermabrasion and microdermabrasion are two common types of skin resurfacing. plastic surgeon Dr. David Kim provides these advanced skin resurfacing treatments to patients in Beverly Hills, Los Angeles, CA, and surrounding communities.
Dermabrasion – An Overview
In dermabrasion, the skin is cooled before being sanded by a specialized high-speed rotary instrument. Skin contours are improved through this planning or abrasive action. New skin replaces the older treated skin resulting in a refreshed and smoother appearance.
Scars resulting from disease, accidents, and acne can be improved by dermabrasion. The procedure doesn't cause the skin to crust. It doesn't require any downtime either. The skin is left red as it heals within a week. This is similar to the redness followed by laser peels, chemical peels, and other resurfacing techniques. Dermabrasion can treat wrinkles, tattoo scars, skin lesions, and liver or age spots among other conditions.
Microdermabrasion – An Overview
Power peel or microdermabrasion involves spraying tiny crystals on the skin. This helps in treating superficial skin problems, such as dull skin, fine lines, age spots, mild acne scars, and sun damaged skin. Microdermabrasion doesn't result in bleeding. It involves minimal downtime.
Non visible or dead skin cells are targeted by microdermabrasion. The procedure is not painful, and you can expect refreshed and renewed skin almost immediately.
Difference between Dermabrasion and Microdermabrasion
Resurfacing intensity is the basic difference between dermabrasion and microdermabrasion. Dermabrasion is a more intense version of microdermabrasion. It involves the forcible removal of deeper skin layers. Microdermabrasion involves the removal of dying or dead skin cells on the more superficial skin layers.
Dermabrasion can result in more dramatic outcomes as compared to microdermabrasion since it involves the removal of skin layers that are still alive. This treatment is excellent for individuals dealing with intense pigmentation, deeper wrinkles, and acne scarring.
However, dermabrasion treatment often involves significant discomfort and pain. It will also have a longer recovery period. But the advantage is that the results will more aesthetically appealing, longer lasting, and natural looking.
Dermabrasion Treatment
Dermabrasion is typically performed for removing or reducing deeper facial wrinkles and scars. For instance, scars caused by acne and chickenpox can be removed by this procedure. It can also be used for reducing scars related to injuries and rosacea. The procedure can be used for easing smoker's lines as well.
Microdermabrasion Treatment
Microdermabrasion can be performed for reducing the appearance of acne scars or treating acne. Skin exfoliation can help in removing or reducing dark spots caused by sun exposure and hormone shifts. It also goes a long way in improving the texture of the skin by shrinking the size of pores and removing dead cells from superficial skin layers.
Cosmetic surgeon Dr. David Kim receives patients from Beverly Hills, Los Angeles, CA, and nearby areas for dermabrasion and microdermabrasion facial skin resurfacing procedures.
Schedule a Consultation with Beverly Hills California Plastic Surgeon Dr. Kim
For more information on the surgical and non-surgical procedures and treatments by Cosmetic Plastic Surgeons Dr. David Kim and Dr. Eugene Kim. Click here to contact us today.
Also visit beverlyhillsplasticsurgery.com
Serving Beverly Hills, Los Angeles, West Hollywood, Orange County, Southern California and surrounding areas.